November 2017 Market Update
Single Family Properties Overview
1,438 New Listings, a +4.1% increase over last year.
937 Pending Sales, a -22.1% drop from last year.
1,334 Closed Sales, a +1.6% increase over last year.
The Median Sales Price increased +9.9% over this time last year, to $164,900. Prices continue to climb.
The Average Sales Price increased +7.3% in November to $191,175.
The Days on Market decreased -16.7% from this time last year, to 60 days. YTD, the Days on Market is down -22.2% compared to last year.
The Inventory of Homes for Sale saw another big drop of -15.7% in November to 5,205, as did the Months Supply of Inventory, which dropped -20.0% to 3.6 months. Our inventory hasn't been this low in over TEN years!
The overarching trend for this year is that homes have been selling for higher prices, in fewer days, and the supply of inventory is now at record level low levels. The new tax legislation could have ramifications on housing, and this is a developing story that we will be watching over the coming months.
Market Overview Charts for All Properties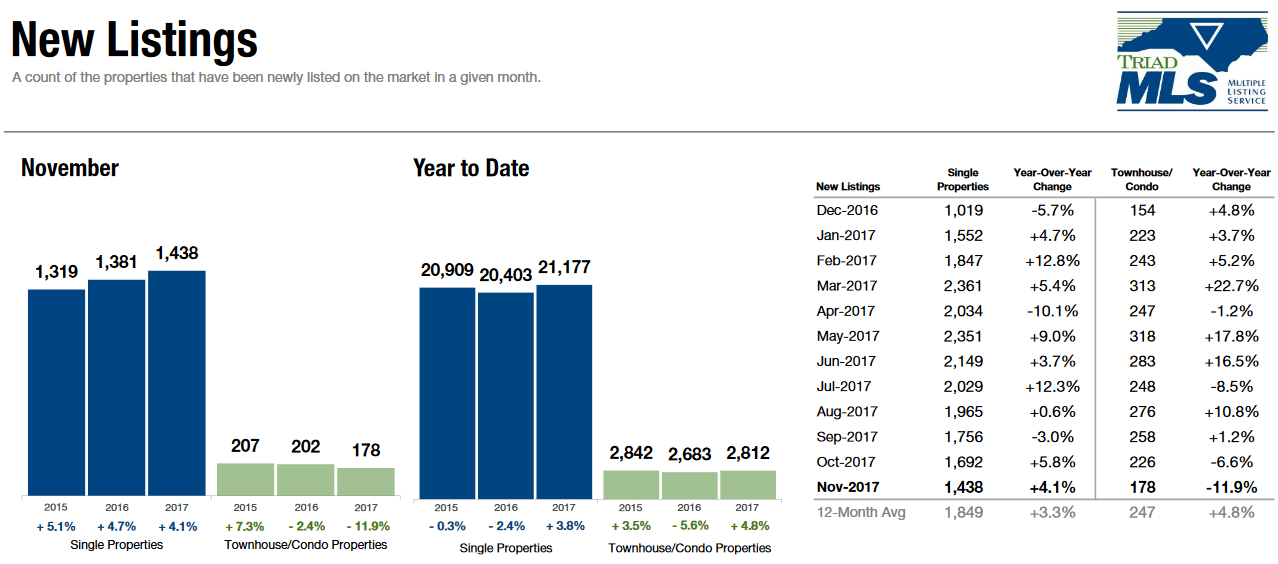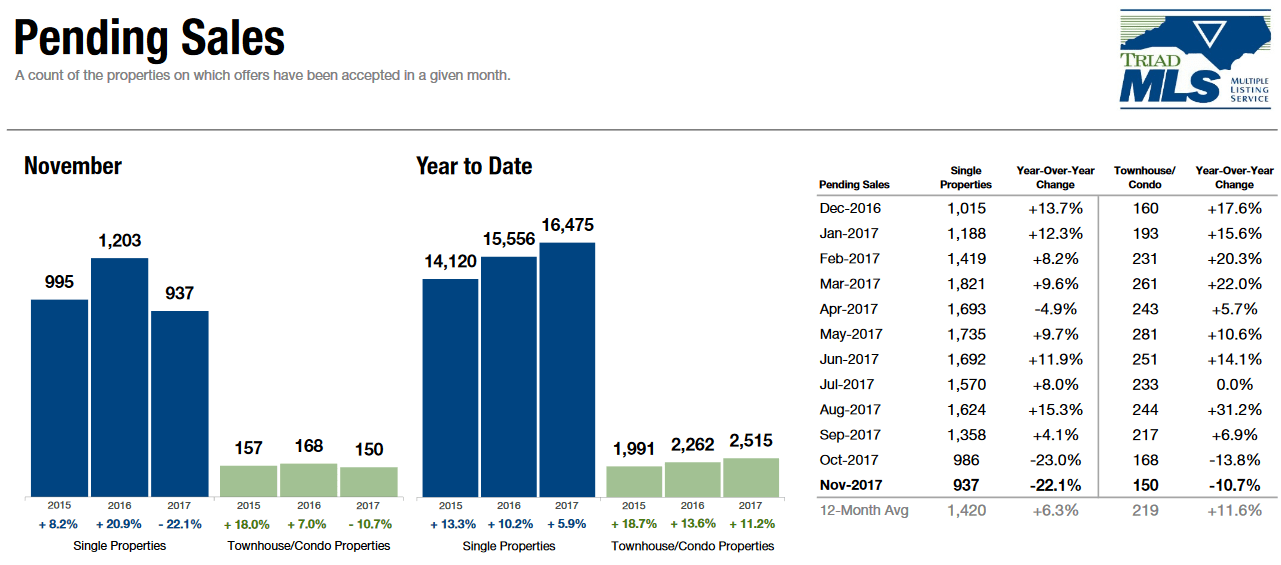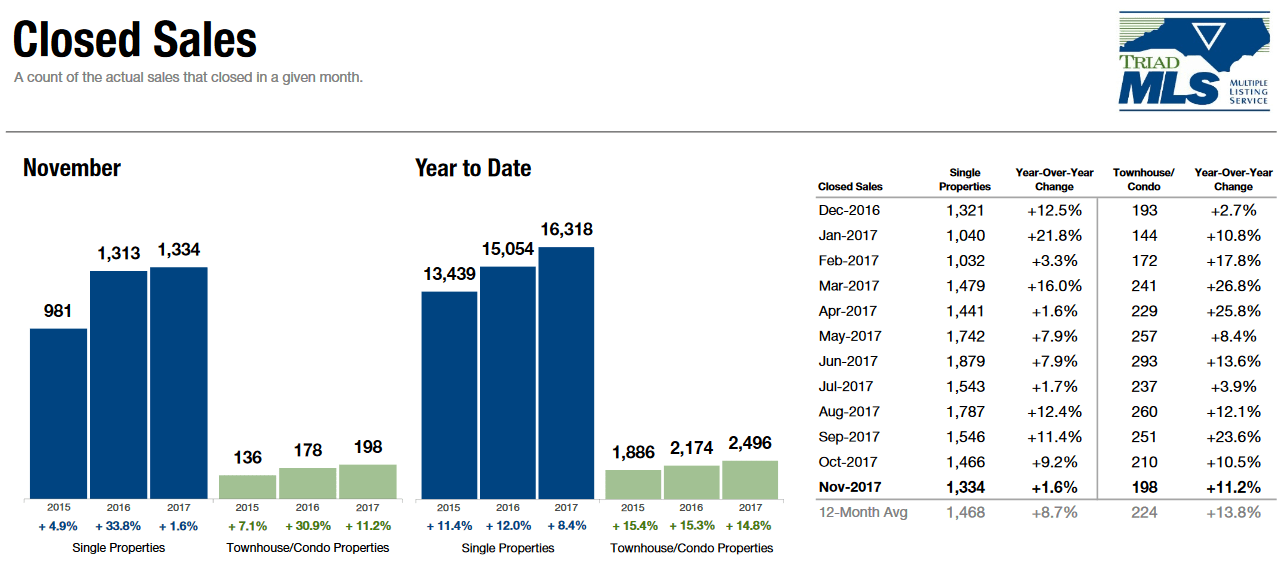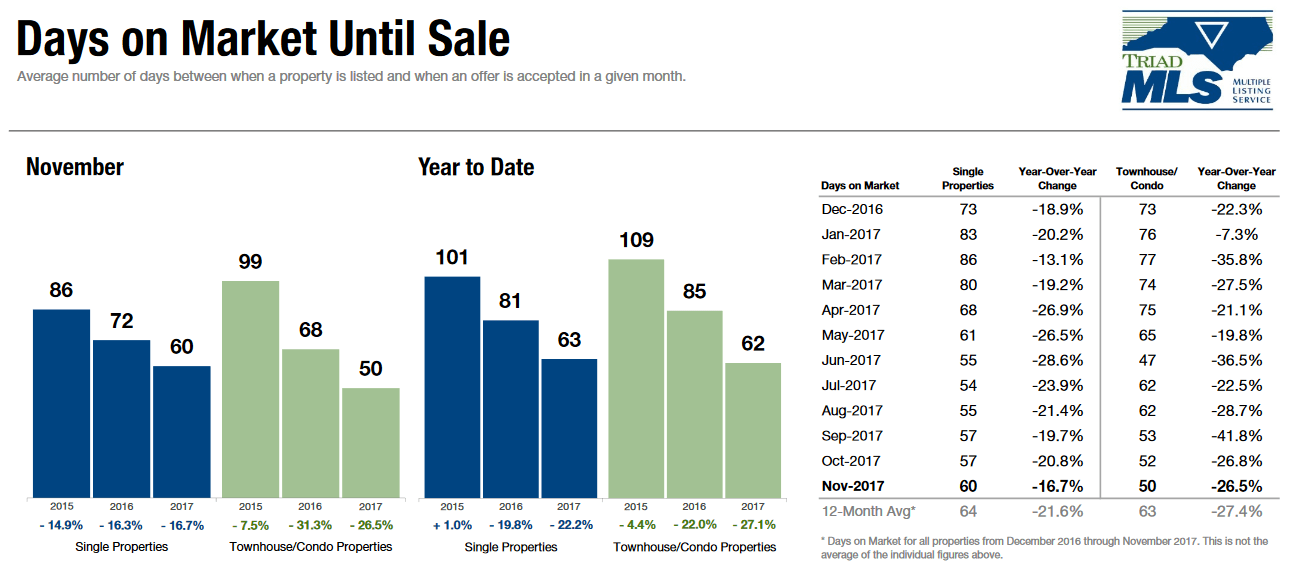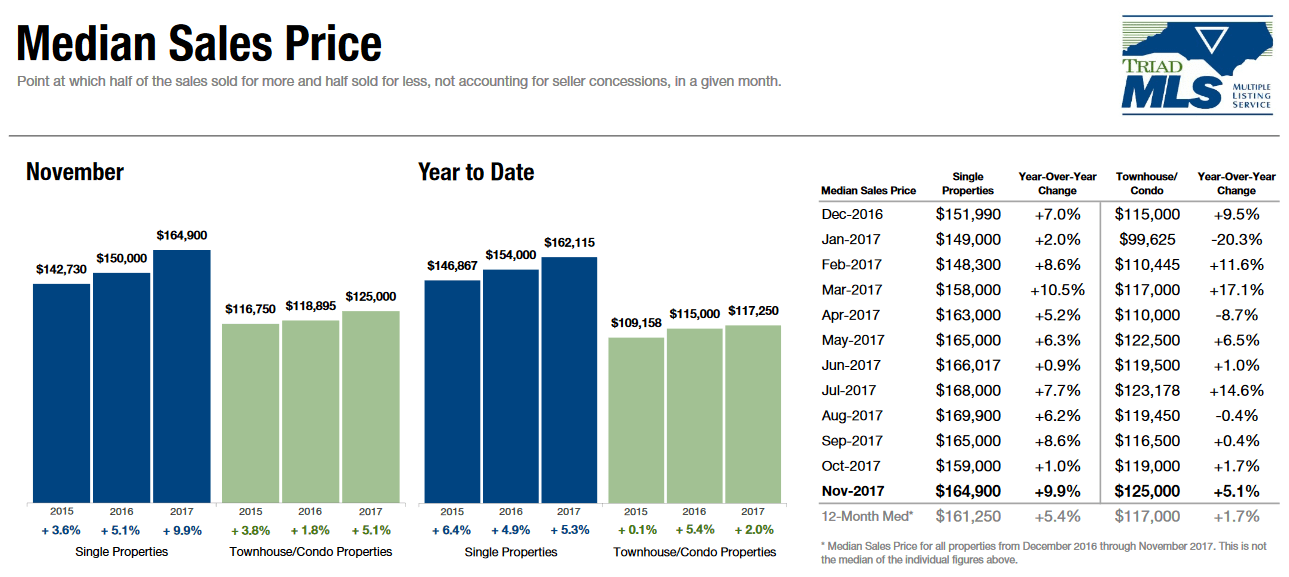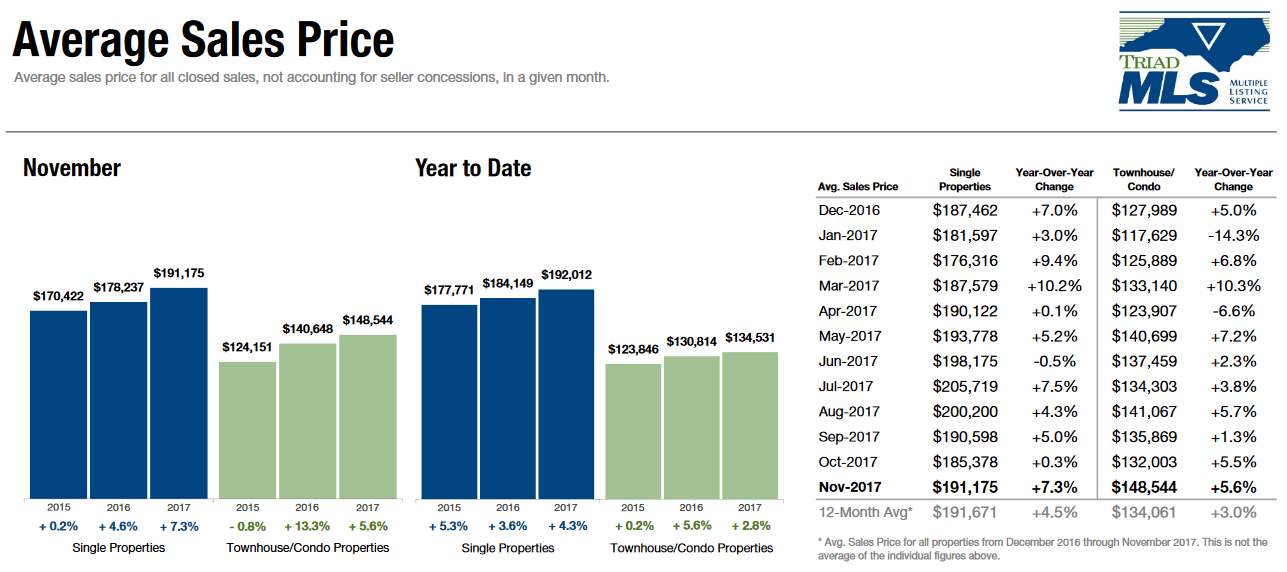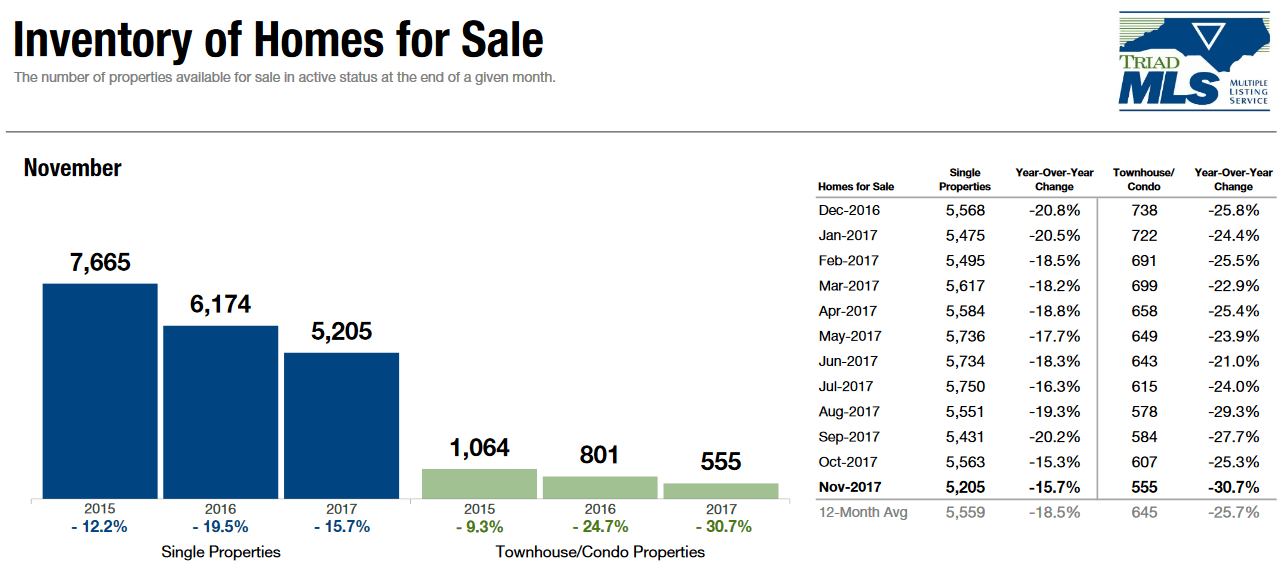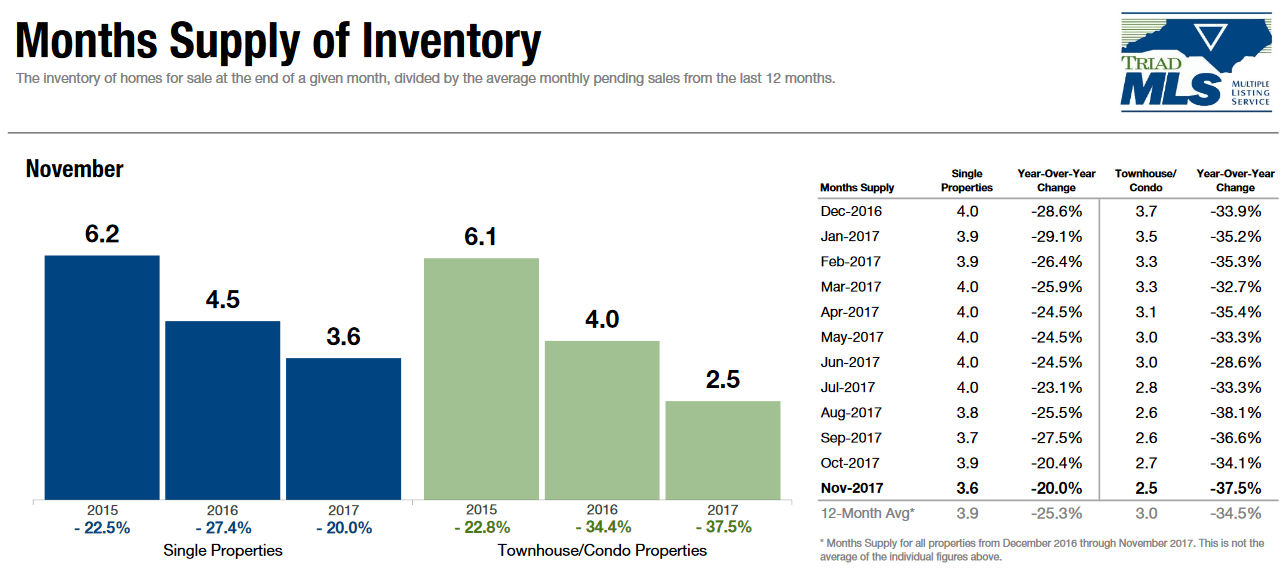 Have you considered selling your home in the Triad?
Contact us today. It's 100% true that NOW IS THE TIME to sell your home.
We'd love to show you how our highly targeted and strategic marketing plan has paid huge dividends for all our clients in the Triad.
Are you in the market to buyer a home in the Triad?
Let us know EXACTLY what you're looking for and we can plug in your exact criteria into our "Client Portal" , which is a free service provided by our Multiple Listing Service. The Portal is dynamic, so you are always viewing live, up-to-the minute data. You'll be notified immediately when anything comes to the market that matches your criteria.
It's still a competitive market for buyers and hunting on sites with inaccurate information (like Zillow and Trulia) does you no good. Tell us what your needs are and we'll set everything up so you get new listings and price reductions delivered straight to your inbox!