1. Historic Gate City Trolley Tour

When: Fri, Apr 9 at 10:30am and 1:00pm

Where: Departs from the History Museum next to LeBauer Park in Downtown Greensboro

Enjoy some time with us on this comprehensive history tour aboard a classy, sassy, and comfortable Trolley. Whether you were raised in Greensboro or are visiting from afar, or even just passing thru, this is a great way to see the sights and hear the tales thru decades of popular landmarks, architecture, and history galore! These departures are on Mon/Wed/Fri @ 10:30am and 1:00pm. Downtown Greensboro local Trolley Tours occur with the comforts of air-conditioning, cushioned seats, an on-board Guide, and a stellar courteous Driver.
Tickets must be purchased online in advance, or by calling 336-722-7777. Neither bathrooms nor seatbelts are available on the Trolley. Beverages welcome but no glass or alcohol please. This tour can accommodate maximum of 8 passengers to practice social distancing aboard our Trolley. Also available for families, neighbors, etc most "anytime".
NOTE: This tour requires a minimum of four passengers to run. Please book your desired party size (recruit friends/family), and we will reach out within 24 hours of the start time to let you know if the minimum has not been reached for a refund or to reschedule.

2. High Point City Lake Park Spring Bass Tournament

When: Sat, Apr 10, 7:30am - 2:30pm

Where: City Lake Park, 602 W Main St, High Point, NC

This annual tradition is a trolling motor event with a five fish limit and 100% pay out. Ages 18+.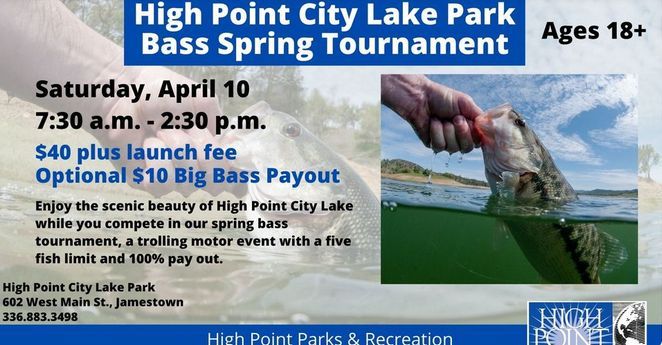 3. Sunday Yoga at Natty's Downtown

When: Sun, Apr 11, 10:00-11:00am

Where: Natty Greene's, 345 S Elm St, Greensboro, NC

Join us Downtown for Sunday Morning Flow.
This is a free class, but tickets must be reserved in advance!
Before class there are a few things we need to go over:
Class starts at 10am and is currently held in our private event space on the 3rd floor of Natty Greene's Downtown.
Please BYO mat or towel + Facial Mask / Covering
We can't wait to have you with us on Sunday!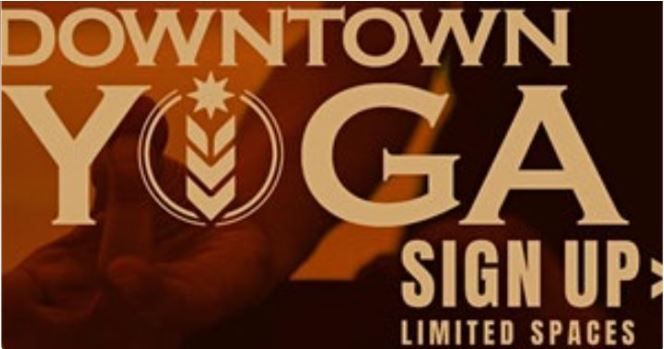 4. Downtown Karaoke

When: Sun, Apr 11, 3:00-8:00pm

Where: Center City Park, 200 N Elm St, Greensboro, NC

Calling all singers!
This is your chance to grab a mic and show us what you've got! DJ Energizer will lay down the tracks for a fun night of singing your heart every week in Center City Park.
Greensboro Downtown Parks, Inc. (GDPI) is committed to providing a safe environment for our community in all ways. In light of the current public health crisis, GDPI abides by all guidelines set by local, state, and federal governments. These guidelines include mask mandates, social distancing recommendations, limits on public gatherings, and sanitation of all surfaces. For the latest information on GDPI's enactment of these guidelines, please visit the Covid-19 Response page on our website.
All programs are FREE to attend, but registration is recommended for select programs to ensure capacity limits are kept within the required framework. Drop-ins are welcome at each program without pre-registering only if there is space available to accommodate them. Some programs are drop-in only due to the structure of the activities - these programs operate as first come, first served based on the availability of space. Additionally, please check our website for any updates regarding program cancellations.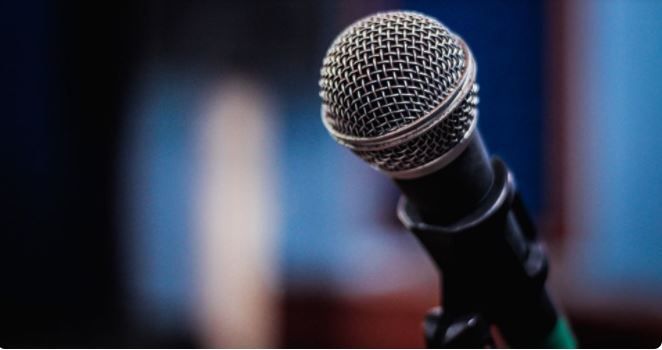 5. Megan Blake's Group Dog Training
When: Sun, Apr 11, 4:30-5:30pm

Where: LeBauer Park, 208 N Davie St, Greensboro, NC

Get great dog tips and real time practice with Megan Blake, as you learn to connect more deeply with your four-legged best friend.
Don't miss an opportunity to learn to speak dog from, Megan Blake, The Pet Lifestyle Coach®! Get great tips and real time practice, as you learn to connect more deeply with your four-legged best friend. Training helps dogs be safer, happier and more integrated into the family. And, the classes are super social, FREE and super fun!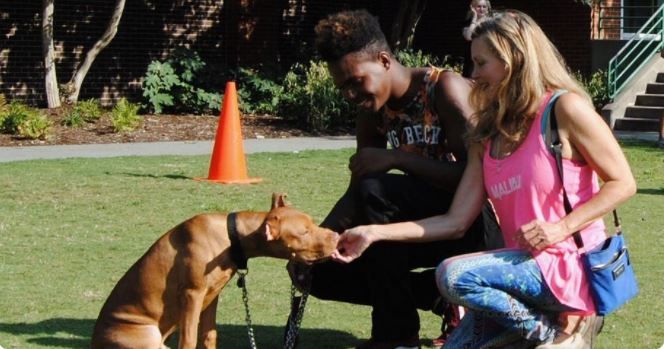 6. 2021 Spring Carolina Pickers Fest

When: Fri, Apr 9 & Sat, Apr 10, 8:00am - 4:00pm

Where: Denton FarmPark, 1072 Cranford Rd, Denton, NC

2021 Spring Carolina Pickers Fest!Dates: April 9th & 10th from 8 a.m. until 4 p.m.
General Admission: $5 (children under 12 admitted free) Come and enjoy a weekend of browsing hundreds of antique and collectible items! Explore the antique car swap meet area. There will be an on site auction and door prizes! Food and camping available on site!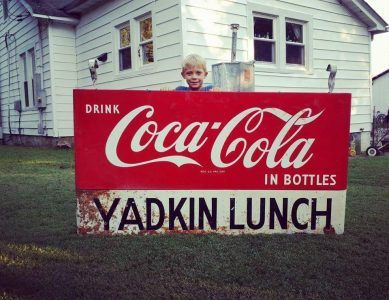 7. Introduction to Handbells + Handchimes

When: Sun, April 11, 18, 25, and May 2, 4:30-5:30pm

Where: West Market Church, 302 W Market St, Greensboro, NC

April 11, 18, 25, and May 2
4:30pm-5:30pm
Room 316 - the Bell RoomBreak the Pandemic Doldrums with this 4-week crash course in ringing Handbells and Handchimes! Dreama Lovitt and Catherine Crowder will guide participants through the basics of music-making in this unique, physical, and kooky-fun genre. Experience with reading music is suggested, but not required. Masks are required. Each participant will have his or her own table, bells, and gloves (provided). Windows will be open and an air filter will be running. Other than stringed instruments, piano, and organ, it doesn't get safer than this to make music! Contact Dreama Lovitt at [email protected] for more information. Sign up at: https://forms.gle/zrBd22MkpXxqXthT6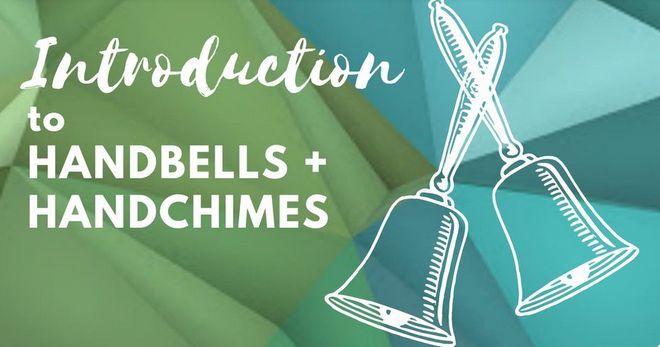 8. Poses With Mimosas

When: Sun, Apr 11, 11:00am - 12:00pm
Where: Oden Brewing Company, 802 W Gate City Blvd, Greensboro, NC

Poses with Mimosas at Oden Brewing Company
$10 class + mimosa (or beer)
Registration required
Book your mat here
View Open Houses For This Weekend
Whether you're looking to buy or just need some inspiration, here is our comprehensive open house list!
View

Real Estate Keeps Moving Forward
During these uncertain times, we remain committed to helping our clients accomplish their real estate goals while also doing our part to keep clients, friends, family, and the community safe.
These are just a few of the ways we plan to keep moving forward...
✅ Digital Market Evaluations
✅ Electronic signatures via DocuSign
✅ Paperless - all documents emailed
✅ Social distancing guidelines are followed
✅ Virtual showings available via ZOOM *
✅ Seller and buyer pre-screening questionnaires for all showings *
✅ Recommended protocol provided to sellers and buyers for safe showings
✅ Remote meetings via ZOOM available for the complete home buying or selling process *
* Option available where applicable